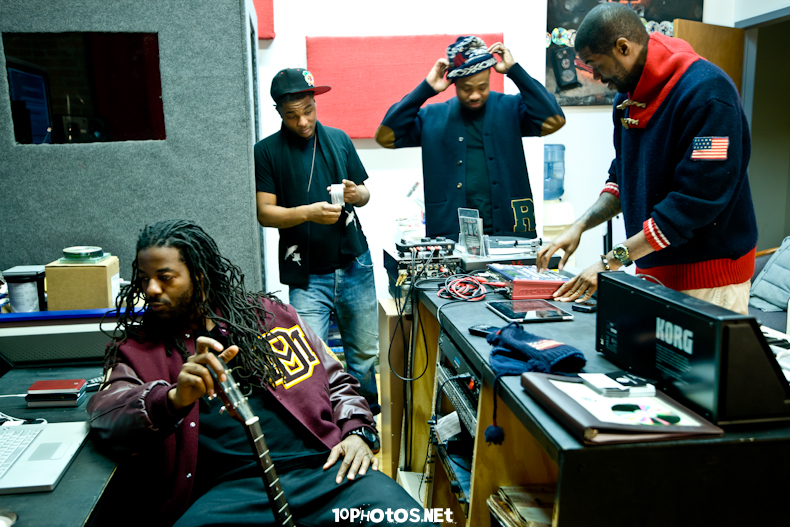 With the recent resurgence of record label interest in the Midwest in general, & Chicago specifically Project Mayhem dropped their most critically acclaimed project Middle America earlier this year. They've found themselves mentioned with relative newcomers as artists to watch out for from Chicago all over the internet. However these Unsigned Hype alumni (2007) have been at it for over a decade. Their distinctive style has garnered admiration from such luminaries as Jay-Z, & they continue to release cutting edge videos that push the boundaries of traditional Hip-Hop cinema. We did an e-mail interview with them where we discuss some of the events of their career, group dynamics, and Chicago.
Why do you label Project Mayhem as "organized confusion"?
Lennon: We are meshing 3, sometimes 4 different styles and turning them into one sound, Mayhem.
Paypa: We mesh different syles,pesonalities,motivations and flavors with not a lot of orginization but it blends perfectly.
What does each member bring to the table specifically?
L: Paypa is the street savy hustler type with the street level rhymes, Ish has more styles and keeps us relevant with the hip hop head crowd but can do anything, lennon drops knowledge from from a street scholar point of view, he has hustled with the best and went to school with the rest, he knows what the streets want and what the educated person wants to hear.
Big Ish: Paypa has thee best slow flow in the world. Lennon has alotta ill concepts. I come through with the heart, energy & soul.
P: Perspective. Paypa comes from a playa perspective, Ish comes from a muscle perspective, and Lennon comes from a survival perspective.
Who has the most eclectic taste in music?
L: I think I have the most eclectic taste, but I'm sure Ish would say him. I think I get the crown because I have a more extensive Hip Hop collection than him, we are even in other genres
BI: I would like to think that I have the most eclectic taste in music. I listen to every fuckin genre of music literally! When the guys get in my car they damn near gotta beg me to put some rap on.
What's a big group regret?
L: The biggest group regret for me would be that we didnt tour more and capitalize off the success of Lo Sweaters and being named Unsigned Hype in 07.
BI: Not putting a huge push behind the Lo Sweaters video when it dropped.
P: That we didnt lock down the viral game faster and take better advantage of our early buzz.
When y'all opened up for EPMD did you watch their show? Meet them?
BI: The Epmd show was ill because they were at the sound check while we were doing our thing & they was feeling it. & when they performed they had never rocked with a live band so it was ill to catch them in that moment.
What PM member has improved the most since the group was formed?
L: I would have to say that I made the biggest improvement, Ish and Paypa were way better spitters than I was.
BI: We all have improved literally. Every time we on a record together it's competition & that has made everyone step it up tremendously! But I would say Lennon & Ish.
P: Lennon. He's alot more confident.
How did Tree join the group?
L:Dane discovered Tree at his job one day, so we kept listening to his mixtape " Dead White People in My Pocket", thats when we realized how GREAT he was. His style was so different that we had to introduce him to our fan base by hopping on songs he would write and produce, that gave us our street sound back. We would also give him solo joints on projects so that he wouldnt have to conform to what people thought Project Mayhem should sound like.
BI: Tree was introduced to the group through Marco Dane & we saw the talent instantly! Alotta people caught on late & they still catching up! We knew what type of beast we had in the camp, & it's ill that alotta people are now starting to realize how talented that nigga is.
P: He worked with Marco Dane & was introduced. We recorded after that bond was formed and the music dictated the moves. He's family
How does the culture in Chicago effect the music?
L: The culture in Chicago is what gives you successful artist from here that all sound different. That's the reason everyone hates on each other, because if someone makes it from here and they dont sound like you, people feel that they are being represented wrong. Its also the reason we have so many point of views in our group.
BI: Gang Culture dominates the streets in Chicago so in the music you hear alotta of that. But we also have a rich music history here. Curtis Mayfield. R Kelly. Quincy Jones. Herbie Hancock. Just to name a few! So to make it here you have to be exceptionally well!
P: We write about our experiences and things we see or people we know or have known in Chicago...there's no other place like it.
What do you think of all the interest being shown to Chicago artists?
L: I think its good for the city, I just hope that every side of the city gets represented.
BI: BI: its cool that the city is being recognized for our hip hop scene now thanks to alotta niggas in the lime light but its also due to the hard work being put in on the underground. Chief Keef was really an underground artist!
P: I think the interest is a good thing. It gives some talented people a chance to do something positive and Chicago definetly needs to be seen.
(Editors Note: After speaking to several Chicago artists repeatedly in the last 2 years, the theme of hoping that the whole city is represented continuously comes up. Interestingly enough the sentiment comes from artists that live all over the city.)
BI: It's definitely the Midwest time to Shine & I think we're well represented right now but we still have a long way to go. Its still hard to be validated here unless someone from somewhere else show support.
P: Only if we make it our time.